So you want to create a newsletter, but you can't choose the best email marketing tool?
Or maybe you are already using one, but you are not happy with it and you want to consider another service.
Then you landed on the right page, this post is for you.
In this article, I'm going to cover the aspects of two of the most popular email marketing tool: GetResponse VS Benchmark.
GetResponse
Getresponse (formerly known as Implix) was founded in 1999 and today serves more than 350,000 customers around 182 countries. The company also owns Clickwebinar and Clickmeeting, two platforms for creating and managing webinars. It has a simple to use interface with several interesting features and is available in 20 different languages.
Benchmark
Launched in 2004, Benchmark grew up really fast. Serving more than 100,000 customers, they offer various online marketing solutions. A valid service and a great customer support.
What They Have in Common?
Both email marketing providers grant a 30-days free trial, without providing a credit card
Autoresponder is available on these two platforms
A/B testing is something they give both
Good looking and responsive email templates are offered in the two cases
Both offer the polls and surveys feature
Strong Differences
One of the first thing that people look at is the pricing.
Benchmark's basic plan is valued at $18,95/mo, which is more expensive than GetResponse's basic plan, priced at $15/mo (considering the same max number of contacts allowed).
Webinars is a service offered only from GetResponse and not by Benchmark. This is definitely a plus, as webinars are a great way to nurture your existing subscribers or get new leads, by sharing expertise in your field.
Another strong difference is that Benchmark does not offer a landing page creator tool, something that GetResponse has included in its plans. This is really a PLUS.
Various Features
Now let's see the different features in details.
Autoresponders
Autoresponder is among the most used service by marketers, when setting up a newsletter, because it gives you the option to replicate the same email series to every new user who subscribes to your mailing list. That's an awesome concept, as once you set up everything, you don't need to worry to send those very same messages to the new subscribers, as this will be done automatically by the email marketing provider.
Now, GetResponse offers Autoresponder 2.0, that is the most current version of autoresponders. You can choose to trigger the sending of your emails depending on a time-based principle or action-based one.
Time-based messages features are:
Unlimited messages per day
Advanced timing control
Simple cycle management
Day-of-the-week selection
Drag 'n' drop order management
Quick message edition
Action-based options are:
Opens and clicks
Changes in contact preferences
Completed transactions
Birthday (and other important dates)
Contact sign-up
Another autoresponder
Benchmark doesn't offer the Autoresponder 2.0, but gives users the option to create up to 8 autoresponder emails. You can choose to send your messages when an event is triggered (like for example the birthday of a subscriber) or following a time-based principle, which  lets you schedule specific emails to send at your favorite time.
If you look into both services, I find GetResponse offering the newest version of autoresponders.
Editing Emails and Responsive Design

Both platforms offer a simple drag and drop editor to create emails and gives at your disposal several responsive templates (this feature allows your users to best visualize your messages from any device they are using, whether a desktop computer, a smartphone or a tablet).
GetResponse calls the editing email option "Email Creator", while Benchmark calls it "Email Designer".
Both email marketing providers offer a huge selection of different templates to use depending on your needs.
I think that GetResponse has the best email editor and feature in responsive email design. However, Benchmark is good too. Depending on your choice.
Email Templates
Both companies offer a free selection (included in their plans) of graphics to add to your messages in order to build your brand among your subscribers.
GetResponse has more than 500 professional templates.
Benchmark offers also this feature and gives you the option to choose from many good-looking templates for your emails.
Landing Page
As previously mentioned, GetResponse offers a tool that you can use to create awesome and well-designed landing pages.
You have more than 100 professional templates to choose from, plus, you can use the 1000 free images included in the plan!
While Benchmark does not offer this service and accepts just third-party tools, which means you need to pay for creating your landing pages somewhere else and then integrate them into your newsletter.
A/B Testing
After you have selected your favorite template (or you have built your own one), it's time to find out what converts more.
It's the most interesting part of your campaign, in my opinion, because a little change in the design (a button, a form, or even just changing the color of these items) can dramatically increase your conversions.
Both email marketing providers offer the A/B testing feature: you can test everything, such as content, subject line or form field.
Build different versions to find out what is the most converting solution.
Webinars
As mentioned, Benchmark does not offer the webinar service, while GetResponse does.
Share your expertise or invite speakers, create and organize online meeting and webinars, nurture your existing subscribers and gain new ones, thanks to this awesome feature.
Pricing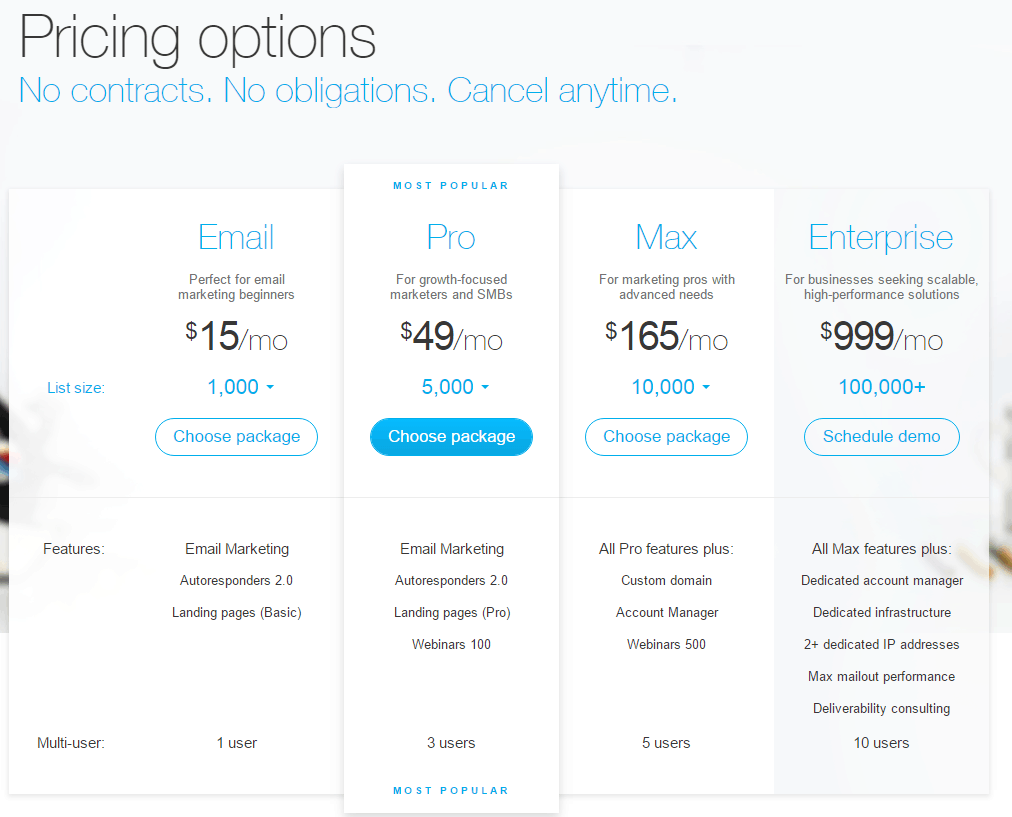 GetResponse cheapest plan is priced at $15/mo and includes up to 1000 contacts (with unlimited emails per month). For the same numbers, Benchmark charges $18,95.
So GetResponse is definitely most competitive. Plus, they offer the landing page and webinar services, which Benchmark does not give.
Final Words
The money is in the list, they say.
So yes, it's definitely possible to make money with autoresponders.
The question is: which email marketing service you should use?
Which one is better?
GetResponse or Benchmark?
First, you should visit each website to read more about their services or even test yourself both platforms before choosing your favorite one.
I think Benchmark can be a great solution for your email marketing needs. Among the many features, the drag and drop editor is easy to use and their customer support is really valid.
But personally, I would choose GetResponse. I like the varied features and many templates available. I believe the inbox preview option is really useful, while the delivery dependability is excellent. They have competitive pricing, also considering they offer the webinar service, which is not included in the Benchmark plans.
Are you running a newsletter?
Which email marketing provider are you using?
What's your experience with their services?
Please share your experience leaving a comment, thanks!